Car Reviews Cerritos, CA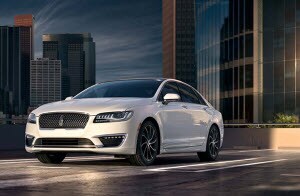 Welcome to the Norm Reeves Lincoln Vehicle Review library, where you can find information about the performance, technology, safety features, and design of the cars in Lincoln's lineup. These Lincoln reviews are a research tool designed to help drivers throughout Cerritos, Long Beach, and Anaheim choose a vehicle that fits their needs. We hope you find them helpful when searching for your next car.
Each Lincoln vehicle review is posted to this page. Before scheduling a test drive, read them to learn about their unique features, artful craftsmanship, and smooth performances.
Why Should I Read Lincoln Vehicle Reviews?
There are dozens of luxury vehicles available on the market today, and finding one with the amenities and features you want can be overwhelming. Many people spend hours reading vehicle reviews and comparisons on the internet, so Norm Reeves Lincoln decided to put the resources you need to complete your automotive research in one place.
The information you need about the vehicles in Lincoln's lineup are designed to help you save time while completing automotive research. We provide a comprehensive overview of every Lincoln in our inventory and cover a range of topics in each of our vehicle reviews, including:
We encourage you to read as many Lincoln vehicle reviews as you can. That way, you can make an informed purchasing decision when you visit a dealership. Knowledge is power when shopping for a Lincoln, and the vehicle reviews we provide on this page can help you decide which vehicles are best for your needs.
Read the Vehicle Reviews from Norm Reeves Lincoln
Before visiting a dealership to test drive a Lincoln, read the Norm Reeves Lincoln vehicle reviews to learn about their latest technology features, amenities, and more. Our Lincoln vehicle reviews are an excellent resource for car shoppers throughout Cerritos, Long Beach, and Anaheim, so read as many as you'd like while completing your automotive research.
To find out more about the Lincolns on your shopping list, please contact Norm Reeves Lincoln online. 
2020 Lincoln Car Preview
2019 Lincoln Car Reviews
2018 Lincoln Reviews:
Additional Lincoln Reviews: