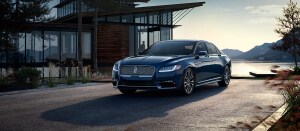 Shopping for a car is no walk in the park, especially when you're trying to decide which trim level is best for you. With so many different features, style options, and performance specifications to consider, we here at Norm Reeves Lincoln know you could use a little help in your automotive research.
So we're here to give you all the help you need with our Lincoln trim level guides.
Your Guides to Lincoln Trim Levels
All Lincoln models are available in multiple trim levels with different performances, technologies, and even styles that cater to every driver's needs. However, comparing each of them can be time consuming and stressful. But our Lincoln trim level guides eliminate the stress and makes research easier.
Each guide lists all of the available trims offered for our Lincoln models. Then they describe the standard features, technologies, and powertrains included for each option to give you a better idea of what every vehicle can provide for you. On top of that, they list any available amenities and packages offered for each trim so you can make your decision.
Best of all, our Lincoln trim levels guides take the work out of your automotive research. Everything you need to find your ideal trim is in these guides. You simple have to read them and decide which one is right for you.
Find Your Lincoln Trim Level
If you're trying to decide which Lincoln trim level is best for you, just click on the model you're considering and discover what each of its trims can provide.
If you don't see a specific model, don't worry. Call Norm Reeves Lincoln at 877-226-6718 and our sales experts will give you the details you need.
You're also welcome to visit our showroom at the Cerritos Auto Square. Here we'll give you a closer look of the Lincoln trim levels you're considering and set you up with a test drive so you can experience them for yourself.
Don't wait - check out our Lincoln trim level guides and contact us to find your perfect trim today.