Having your vehicle serviced is an important part of being a driver and a car owner. Whether you're in need of a quick and easy oil change, or there's an issue with your transmission that you need looked at, our service center at Norm Reeves Lincoln is here to help. Our goal is to provide your vehicle with the service it needs to continue its smooth journey throughout Cerritos, Long Beach, and Buena Park.
When it comes to your vehicle and its service and maintenance, you probably have a few questions. We have this FAQs page to assist drivers in learning more about various services, intervals, and what to look out for to know that it's time for service. Keep reading below to see if we've answered one of your questions! Then schedule your next service appointment online!
How Often Should I Get an Oil Change?

Typically, you'll want to get your oil changed every 5,000 to 7,000 miles, or every three to five months. Depending on what type of oil you use or how you drive, the life expectancy of your oil could vary.
How Often Should I Check My Vehicle's Fuel Levels?
You can check your fuel levels daily by checking the gauge on your dashboard. However, when your fuel level drops below a quarter, you'll want to consider refueling before embarking on any lengthy journeys on the road.
How Often Should I Change My Air Filter?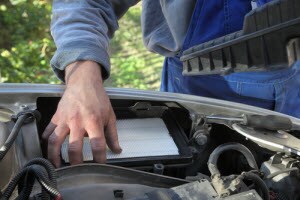 Your vehicle includes two air filters: the engine air filter and the cabin air filter. The engine air filter can last up to 15,000 to 30,000 miles. The cabin air filter should be replaced every 15,000 to 25,000 miles to ensure that the air quality in the cabin of your vehicle remains optimal.
When Should I Replace My Brake Pads?
Your brake pads are meant to wear, because they cause the friction that slows your vehicle down. Brake pads last for about 40,000 miles or more. You can tell it's time to replace your brake pads due to the high-pitch squeal you hear when pressing on your brake pedal. This means that the pad's metal wear indicator is grinding against the rotors to let you know it's time for a change.
When Should I Replace My Car Battery?

Your car battery can last up to five to seven years, so you won't have to worry about replacing it earlier than that. However, issues can occur that can shorten your battery's life expectancy, so having the battery and its charge regularly inspected can help you stay ahead of any potential replacement.
When Should I Get a Tire Rotation?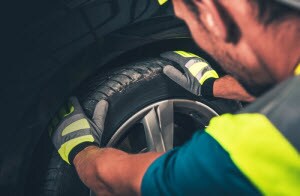 It's always a good idea to have your tires rotated when you schedule your oil change, so about every 5,000 to 7,000 miles. Rotating your tires can help you reduce the wear and have them last as long as possible before needing to replace one or the whole set.
How Much Air Pressure Should I Put in My Tires?
Most tires require between 32 and 35 PSI (pounds per square inch). To be sure you're providing the right amount of air for your vehicle, check the manufacturer's recommendation.
Auto Service at Our Dealership near Cerritos
Do you have an automotive service question that we haven't answered here? Contact us at Norm Reeves Lincoln so we can help you. Of course, you can always schedule your service with us so we can solve the problem!
Schedule service with us at Norm Reeves Lincoln! We're here to help drivers all throughout Cerritos, Long Beach, and Buena Park when it comes to taking care of their vehicle and keeping it out on the road.