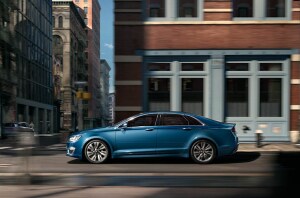 Welcome to the Norm Reeves Lincoln vehicle comparison library. On this page, you'll find Lincoln car comparisons designed to help drivers near Cerritos, Long Beach, and Anaheim conduct automotive research. Each comparison matches the Lincoln vehicles in our lineup to their closest competitors so you can see why each is unique. We hope you find them helpful during your search for your next vehicle.      

Read Our Lincoln Vehicle Comparisons     
At Norm Reeves Lincoln, our car comparisons are designed to streamline the automotive research process. We encourage you to read as many as you can before taking a test drive to ensure that you choose a vehicle that aligns with your driving needs and preferences. Finding the right vehicle can seem daunting in today's competitive automotive marketplace, but our comparisons provide information to make your search easier.      
Whether you're considering a Lincoln Navigator, Lincoln MKC, or Lincoln MKX, our comparisons are designed to show you how each vehicle is unique. Many cars seem identical at first glance, and reading Lincoln comparisons is a great way to learn about the key characteristics that sets certain vehicles apart.      
Not only do you get an understanding of a certain vehicle's strengths and weaknesses, you'll also get a feel for the vehicles that are a better fit for you. This is an important step to take while looking for your next car. Our goal at Norm Reeves Lincoln is to help you find a vehicle that accomplishes everything you need it to, and comparing Lincolns is a great first step in you search.      
How Our Lincoln Comparisons Help You      
With so many cars available on the market today, finding one that you're 100% confident about can take hours of research. The web is full of Lincoln car reviews and comparisons, and combing through each of them can be stressful and time consuming.       
That's why Norm Reeves Lincoln has put together these Lincoln comparisons. We know that conducting automotive research is overwhelming, but we strive to make it as easy as possible by putting our vehicle comparisons in one place. If you live near Anaheim, Long Beach, or Cerritos and are considering a new Lincoln, our comparisons are a great place to start learning about the models on your shopping list.      
Before test driving a Lincoln, read the Norm Reeves Lincoln vehicle comparisons to find the once that's best for your needs.
Lincoln Navigator

Lincoln MKZ