When you're looking for a sophisticated and spacious family vehicle to make your ride through Cerritos, Long Beach, and Anaheim a breeze, the large luxury SUV segment may come calling. Rides like the 2019 Lincoln Navigator and Cadillac Escalade certainly loom large for shoppers interested in that segment. These impressive luxury SUVs provide the necessary power, style, and amenities for your journeys on the road ahead.

Our 2019 Lincoln Navigator vs. Cadillac Escalade car comparison will take you through the finer points of these two vehicles, so you can decide if one of them meets your needs. Our team at Norm Reeves Lincoln is here to simplify the car-shopping process for you! Please contact us with any questions.
LINCOLN NAVIGATOR VS CADILLAC ESCALADE: LUXURIOUS INTERIORS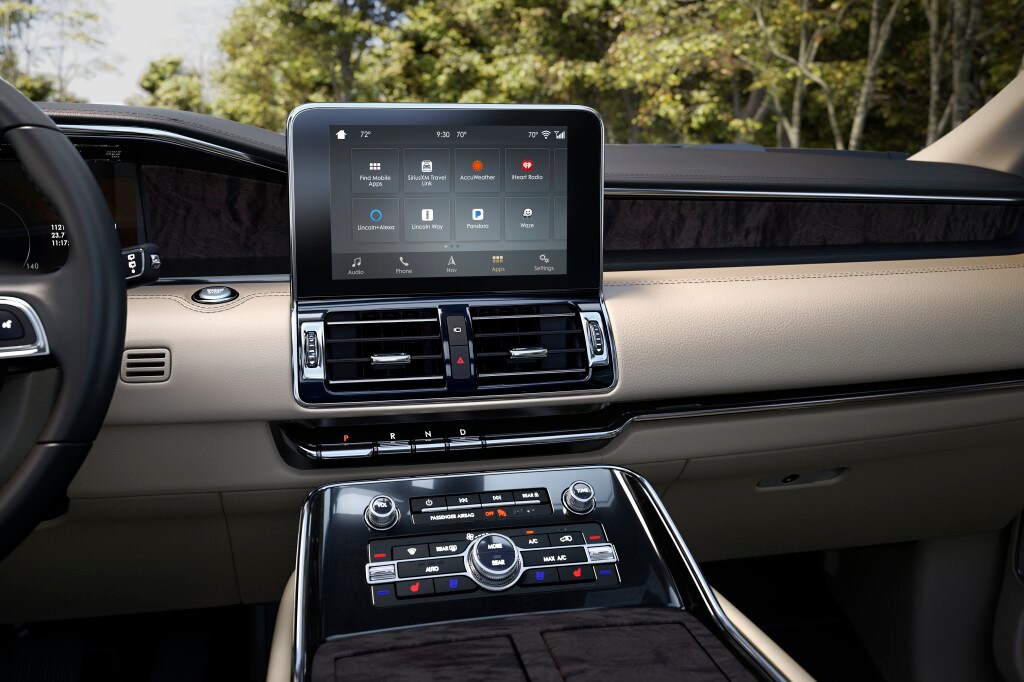 The 2019 Lincoln Navigator vs. Escalade are both luxury-branded vehicles, and they have all the trimmings to match. Both have an abundance of high-quality soft- and hard-touch materials. The Escalade's leather and rich wood trims impress, as do the newly redesigned Lincoln Navigator's.

The infotainment systems in both cars are well-integrated into their dash designs. The Lincoln Navigator's screen protrudes from the top of the center stack and is reflective of its more modern design. Its touchscreen is also larger than the Escalade's (10 inches to 8 inches) for more swipe capacity, and test drivers report that the Escalade's system has slow input response times and lacks intuitiveness. 
INTERIOR DIMENSIONS
The Lincoln Navigator and Cadillac Escalade really know how to put the utility in SUV. Both SUVs offer expansive cabins. The Lincoln Navigator includes enough space for eight passengers, while the Escalade features enough seating for seven passengers. However, the Escalade can be upgraded to include additional seating. Each ride has more than 40 inches of front-row legroom and about 40 inches of second-row legroom, so taller passengers have plenty of seating options to choose from.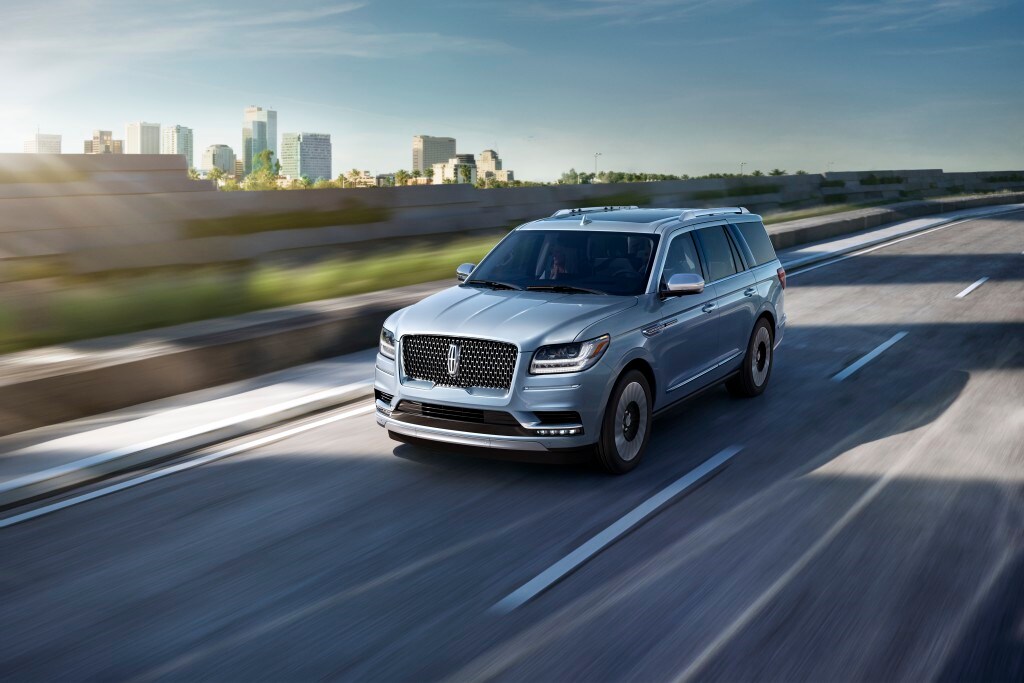 However, the Escalade gets just 24.8 inches of third-row legroom, making it a tight squeeze for everyone but small children. The Lincoln Navigator's 37.3 inches of third-row legroom is quite a bit more accommodating to older kids and even adults. You won't feel like you're stuck in the penalty box while riding in the back of the Lincoln Navigator.
PERFORMANCE SPECS
The 2019 Lincoln Navigator vs. Escalade are well-matched when it comes to their performance, but the Lincoln Navigator comes out ahead of the Escalade in power. The Escalade offers up to 420 horsepower and 460 lb-ft of torque that it can generate from its 6.2-liter V6 engine. The Lincoln Navigator comes equipped with a Twin-Turbocharged 3.5-liter V6 engine that tops out at 450 horsepower and 510 lb-ft of torque.

Both of these luxury SUVs come paired with a 10-speed automatic transmission, however, the Lincoln Navigator offers SelectShift® with its paired transmission. This particular transmission allows drivers to seamlessly transition between different drive modes to improve the overall performance with Sport mode, redistribute torque to accommodate towing, or improve the overall fuel economy with a less aggressive drive mode. The Escalade transmission doesn't offer the drive mode variety, but does include a towing component to the gear ratios.
LINCOLN NAVIGATOR VS ESCALADE CARGO & TOWING CAPACITIES
The Lincoln Navigator and Escalade each offer expansive cabins for their passengers, but there's also considerable room for cargo and materials. However, in terms of cargo capacity with these luxury SUVs, there's a pretty noticeable difference. Each vehicle includes a 60/40 split second row bench and a 50/50 split third row seat, both which can be partially or fully folded down to accommodate for more cargo room.
The Lincoln Navigator offers 19.3 cubic feet behind its third row, while the Escalade only offers 15.2 cubic feet. As for when the third row is folded down, the Lincoln Navigator cargo area opens up to 57.5 cubic feet while the Escalade is a bit limited in comparison with only 51.6 cubic feet. When the second and third rows are folded down, the Lincoln Navigator offers a remarkable 103.3 cubic feet of total cargo space. As for the Escalade, it only opens up to 94.2 cubic feet, which gives the Lincoln Navigator quite the advantage when it comes to bringing cargo on the road.
While both vehicles offer an impressive amount of space for your cargo that can be configured to make more room, you may not be able to lose any passenger seating. Both SUVs offer an impressive amount of power which  can be used to tow some materials on the road with you. The Escalade is capable of towing 8,300-lbs of materials when properly equipped. However, the Lincoln Navigator can surpass the limitations of the Cadillac Escalade by offering an impressive 8,700-lbs of towing capacity. That's 400 more pounds of materials to bring on your trip. So, hitch a bigger trailer or boat and see what this car can do!
LUXURY LINCOLN SUV TRIMS
When it comes to picking out the right SUV that's equipped with the features you're looking for in your next vehicle, the Lincoln Navigator comes in five unique trims: the Premiere, Select, Select L, Reserve, and the Reserve L. Starting at the base level, the SUV offers some pretty sophisticated features and styling, but of course, the higher trims include the higher-end seating, advanced technology, and the top comfort and entertainment amenities. The Cadillac Escalade also offers a variety of high-end features, technology, and amenities, but it only offers four trims: the base, Luxury, Premium Luxury, and Platinum. The Escalade simply doesn't offer the expansive variety that the Lincoln Navigator does.
LINCOLN NAVIGATOR VS CADILLAC ESCALADE: THE VERDICT
The Lincoln Navigator vs. Cadillac Escalade showdown pits two very capable large luxury SUVs against each other, and both perform admirably. However, we think car shoppers near Cerritos, Long Beach, and Anaheim will like the Lincoln Navigator's powerful performance, roomy rear seating, and modern design/function.
Decide for yourself by test driving the Lincoln Navigator at Norm Reeves Lincoln. Schedule in advance, and we'll have a luxurious Lincoln SUV ready to go when you pull up!