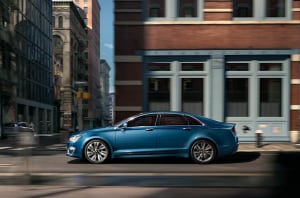 When most people think of a luxury vehicle, they are probably imagining the sleek exterior and elaborate media bundles that can be found within. But when it comes the 2017 Lincoln MKZ, safety receives an equally exciting upgrade. In this review, our team at Norm Reeves Lincoln will be looking at the important features that matter most to our customers in the Cerritos, Long Beach, and Anaheim area. After reading this, you will have no doubt that the MKZ can offer a wealth of safety benefits. 
Structural Advancements
No vehicle can truly be considered safe if it doesn't have a sound structure to back up its technology. The 2017 Lincoln MKZ was designed not only to withstand, but also to prevent high impacts. The frame of the MKZ is composed of unitized welded steel. Unitized vehicle bodies such as this are built around the cabin, and include many rails, pillars, and dynamic crumple zones that will absorb some impacts and repel those that it cannot.
Every MKZ comes installed with the comprehensive Personal Safety System™. This system incorporates dozens of sensors that are placed all around the body of the vehicle. The sensors can detect impact severity, seatbelt use, and occupant size. Depending on passenger weight and the force of the crash, airbags will deploy in stages. While inflation may vary, it always benefits the passengers most in harm's way.
Belt Minder™ monitors who is wearing their seatbelts and when they may need to be tensioned. During a collision or hard stop, your seatbelt will automatically tighten, holding you in place. The SOS Post-Crash Alert System™ works in tandem with this and other structural features. When the system senses airbag deployment, your car's lights will automatically flash and the horn will sound repeatedly. This is meant to draw responders to your vehicle as quickly and easily as possible. 
Intuitive Technology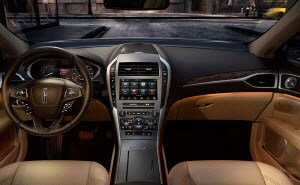 The MKZ comes equipped with several technologies that were made to enhance the function of your vehicle frame. When backing into or out of a tight spot, the rearview camera allows you to see what is behind you so that you can easily avoid a collision. However, if an object is low enough to the ground that it will not appear on camera, reverse sensing will send you an audible alert as well.
Driving on over or under-inflated tires can be very dangerous. To prevent this from happening, a tire pressure monitoring system has been installed to keep track of pressure levels for you. A traction control system has also been installed to apply individual brakeforce and stabilize your car when driving on loose or slippery surfaces.
In some trim levels of the MKZ, drivers can find even more advanced technologies, such as adaptive cruise control (ACC) with stop-and-go. ACC uses complex sensors to monitor all cars ahead of you, and will automatically slow down to maintain a safe following distance. In some cases, the MKZ can autonomously come to a complete stop. Other advanced features available in higher trims include active park assist and the lane-keeping system. 
Learn More About the 2017 Lincoln MKZ
When you're behind the wheel of your 2017 Lincoln MKZ, you can rest assured that you are backed by a rigid frame and a host of intelligent technologies. With that kind of support, drivers will rarely feel unsafe. If you're interested in learning more about these features, feel free to contact us at Norm Reeves Lincoln. We're more than happy to help customers in the Cerritos, Long Beach, and Anaheim area discover how they can take their safety to the next level. Contact us today for more information!