Summer near Orange, CA, can be brutal, but a frozen treat is a great way to beat the heat. So combat the hot summer days by checking out our picks for the best places to grab a frozen treat near Orange, CA!
a la minute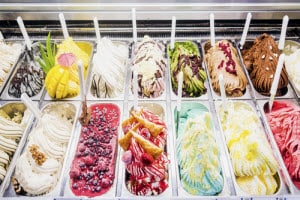 Love ice cream? Fascinated by science? Then check out a la minute, a local ice cream shop near Orange, CA. Here, you can cool off, indulge your sweet tooth, and see a cool little science experiment all at the same time. They use liquid nitrogen to freeze small batches of ice cream right in front of you. But showing you a live action science experiment isn't the only reason they use it.
Liquid nitrogen reduces the size of ice crystals during the freezing process, so you'll get a creamier and smoother frozen treat. Plus their ice cream base is organic, and they use some of the best local ingredients to make great flavors like Chocolate Lavender, Salted Caramel, and Espresso Chip.
Andrew's Ice Cream
Located right in Orange, CA, Andrew's Ice Cream is more than just an ice cream shop. It's paradise for many ice cream lovers in the area. They offer a ton of flavors, from Hazelnut Nutella to Horchata to Peppermint Gingersnap, to satisfy every craving.
Plus they take requests! If you have a specific flavor you want them to make, just let them know in the store! And if you want to indulge in their flavors at home or your next event, Andrew's Ice Cream offers catering options. Best of all, all their ice creams, gelatos, and frozen treats are homemade.
Mustache Mike's Truck
Combine the concept of a food truck with the sweetness of an ice cream truck and you get Mustache Mike's Truck. They travel across the Orange, CA, area offering 15 flavors of refreshing Italian ice that's sure to cool you down and satisfy your sweet tooth. So whether you're craving a cherry, blue raspberry, or root beer ice, they're sure to have it.
And they're available for events, so if you plan on serving up a fruity frozen treat for your next summer soiree, Mustache Mike's Truck can be there.
Spatel Desserts
Spatel Desserts in Orange, CA, provides an inviting place for you to enjoy any sweet frozen treat you want. Here you can dive into their gelato, Italian ice, custard, ice cream, and much more. In terms of flavors, they feature the classics as well as some unique and delicious gelati combos, such as Chocolate Fruity Pebbles, Strawberry Snow Ball, and Mango Chamoy.
Best of all, every flavor they offer is made with high-quality ingredients to ensure great taste, texture, and overall experience.
Don't let the summertime heat get you down! Cool off and indulge in something sweet at the best places to grab a frozen teat near Orange, CA, today!