The warm California sun, a trip around town, a walk around the park - everything's always better when you and your dog are together. So why not enjoy a great meal with your pup at these top dog-friendly restaurants in Newport Beach, CA.
Alta Coffee & Restaurant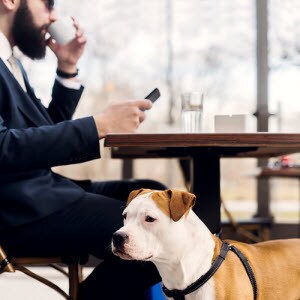 506 31st Street, Newport Beach, CA
949-675-0233
What was once a bookstore is now a place where you can grab a cup of joe and spend some quality time with your pup. At Alta Coffee & Restaurant, you can grab your caffeinated pick-me-up from a side door and hang out at any of their outdoor areas with your furry pal.
Plus you'll find more than just coffee here. This establishment also offers a variety of food options, including breakfast dishes, soups, and specialty sandwiches.
Back Bay Bistro
1131 Back Bay Drive, Newport Beach, CA
949-729-1144
Get a view of Newport Beach and the Back Bay Nature Reserve with your tail-wagging best friend when you stop by Back Bay Bistro. This restaurant serves award-winning American cuisine and feature their famous Family Brunch on Saturdays and Champagne Brunch on Sundays. And when your dog wants to join in the fun, Back Bay Bistro offers a dog-friendly eating area on its waterfront patio.
For more information about Back Bay Bistro, check them out on Facebook and Twitter.
Bayside Restaurant
900 Bayside Drive, Newport Beach, CA
949-721-1222
When you're looking for an elegant dining experience fit for you and your pup, Bayside Restaurant is the place to go. Situated right in Newport Beach, this eatery not only provides New American cuisine by award-winning Executive Chef Paul Gstrein, but you'll also get a breathtaking view overlooking the harbor. Plus you'll be able to enjoy meals al fresco in their comfortable wrap-around patio complete with sun drapes and built-in heaters. Best of all, this restaurant features a popular Champagne Sunday Brunch.
Be sure to follow Bayside Restaurant on Twitter and Facebook to learn more about everything they have to offer.
Bluewater Grill
630 Lido Park Drive, Newport Beach, CA
949-675-3474
At Bluewater Grill, you'll be able to experience a dish that's truly fresh. This seafood restaurant is dedicated to providing the most sustainable fish they can find. They only use fish that the Monterey Bay Aquarium chooses as a Best Choice or Good Alternative and suppliers who get their fish solely through fishermen who use environmentally responsible harvesting methods. Because of this, the restaurant can whip up some exceptional dishes that have been voted the Best Seafood in Orange County. And your dog can also sneak a few bites when you dine in their outdoor seating area. 
To learn more about Bluewater Grill, connect with them on Facebook and Twitter.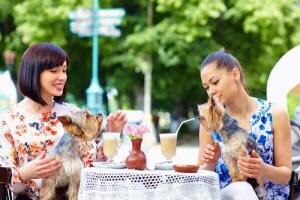 Wilma's Patio
203 Marine Avenue, Newport Beach, CA
949-675-5522
Wilma's Patio is one of the best restaurants to take your entire family, including your four-legged pal. It's family owned and operated and is a renowned establishment for many locals. They offer everything from breakfast to authentic Mexican dishes created from family recipes. Some of the items on their menu are sandwiches made with home-cooked roast, homemade guacamole, and fresh seafood and pasta.
Check out Wilma's Patio's Facebook and Twitter for more menu details!
Everything is better when your dog's around, including a great meal. So if you and your best bud are getting hungry for something delicious, enjoy it together at any of the best dog-friendly restaurants in Newport Beach.